By Lambert Strether of Corrente.
Bird Song of the Day
Birds of Texas. Somehow I'd expect a bird with a name like the "Great Blue Heron" to have a more mellifluous song!
#COVID19
At reader request, I've added this daily chart from 91-DIVOC. The data is the Johns Hopkins CSSE data. Here is the site.
I feel I'm engaging in a macabre form of tape-watching, because I don't think the peak is coming in the next days, or even weeks. Is the virus gathering itself for another leap?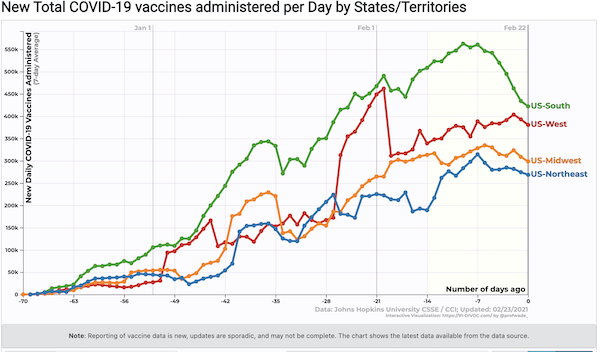 Big drop in the South no doubt storm-related.
Case count by United States region: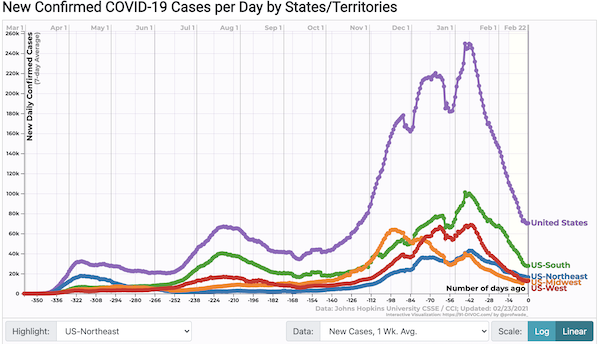 Big states (New York, Florida, Texas, California):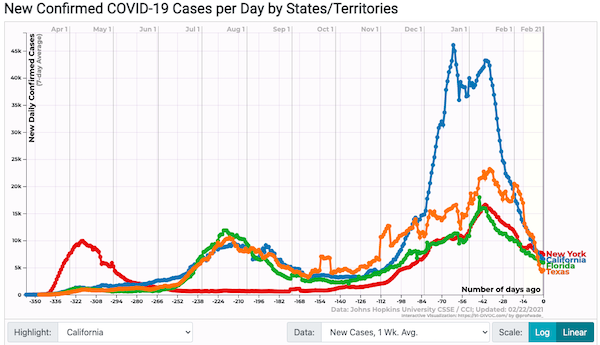 Encouraging to see cases in Texas go up, in that at least we know there's some testing being done.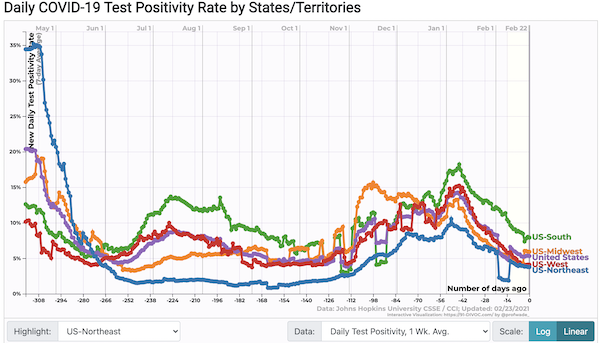 Regional averages approach 3%, which is what we want to see. (Alert reader TsWkr pointed out it's time to update my test positivity comment, which I just did.)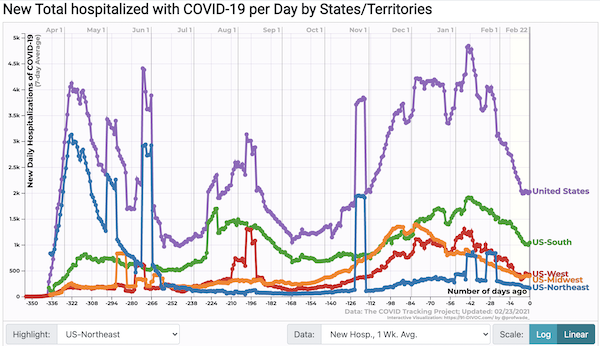 Hospitalization is discretionary; they may also be reducing their admissions rate — relative to cases we cannot see in this data! — to preserve future capacity; or because hospitals have figured out how to send people home.
Case fatality rate (plus deaths):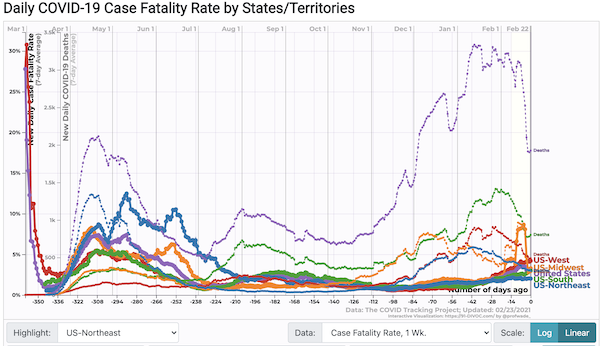 Once Ohio's data is processed, an enormous drop (down to the peak of the first wave). Still, that rising fatality rate in the West (red) worries me. Could that be due to variants?
Politics
"But what is government itself, but the greatest of all reflections on human nature?" –James Madison, Federalist 51
"They had one weapon left and both knew it: treachery." –Frank Herbert, Dune
"They had learned nothing, and forgotten nothing." –Charles Maurice de Talleyrand-Périgord
Biden Administration
—>
Democrats en deshabille
"Could Cuomo be impeached?" [City & State]. "The only other governor who has come close to being impeached in recent history is former Gov. Elliot Spitzer, who became entangled in a prostitution scandal in 2008. Spitzer resigned after serving 15 months in office, right as state lawmakers began drafting articles of impeachment. 'Far worse behavior (than Cuomo's) by public officers in recent years did not result in impeachment," Gerald Benjamin, an expert on the state's government, told City & State in an email. "I don't think impeachment of the governor is in the offing, nor from what I now know, should it be.'" • Whacking thousands of elders in nursing homes is better than a prostitution scandal?
Republican Funhouse
"Almost half of Republicans would join Trump party: poll" [The Hill]. "A Suffolk University-USA Today poll found that 46 percent of Republicans said they would abandon the GOP and join the Trump party if the former president decided to create one. Only 27 percent said they would stay with the GOP, with the remainder indicating they would be undecided. 'We feel like Republicans don't fight enough for us, and we all see Donald Trump fighting for us as hard as he can, every single day,' a Republican and small-business owner from Milwaukee told the newspaper. 'But then you have establishment Republicans who just agree with establishment Democrats and everything, and they don't ever push back.'"

"Silence About GOP Senators' Hypocrisy" [David Sirota, Daily Poster]. "A group of Republican senators are pressing President Biden's Justice Department to investigate Democratic New York Gov. Andrew Cuomo's mismanagement of nursing home policy during the pandemic — and conservative media outlets are excitedly touting those lawmakers' plans to spotlight the issue at this week's confirmation hearing for Biden's attorney general nominee. Cuomo deserves the criticism. However, there is some serious hypocrisy at play here. Amid an outcry about nursing home deaths, these same Republican critics copied and pasted Cuomo's infamous nursing home immunity law into their own legislation. That fact has not been spotlighted by the same conservative media machine hyping the Cuomo scandal, even though it is out in the open for all to see."
State Capacity (1):
One last update (I think!): We just hit $5 million raised for Texans across the state.

Thank you ALL for your collective action when people need it most.

Charity can't replace policy, but solidarity is how we'll face climate change and build a better world. 💪🏽🌎

Thank you 🙏🏽 pic.twitter.com/RzdgXllXoS

— Alexandria Ocasio-Cortez (@AOC) February 22, 2021
State Capacity (2):
"Turns out we were screwed by our lack of state capacity all along" is the sad take we're slowly coming around to. But it's key because it shows how hard avoiding the next one will be. A president who "believes in science" is not enough.

— Adam Ozimek (@ModeledBehavior) February 22, 2021
State Capacity (3):
"It's not hard to imagine that after the pandemic, the mishandling of federal resources will be used as a reason to surrender even more state capacity to private companies, which will leave the govt even worse equipped to handle whatever crisis comes next" https://t.co/uQXk4EGlhn https://t.co/LALUhGbhLW

— Kelsey D. Atherton (@AthertonKD) February 16, 2021
State Capacity (4):
The Texas blackouts perfectly illustrate how post-70s deregulation has simply been a project of destroying state capacity, infrastructure, and coordinating industrial institutions—and replacing them with absolutely nothing

— Isaac Wilks 🎤🐢 (@wilks_isaac) February 17, 2021
Yale undergrad gets it!
State Capacity (5):
This is bad, but it isn't new. The GAO sounded the alarm about excess deaths at privately owned nursing homes more than a decade ago.

We ignored them. https://t.co/XaDjQaX5r7

11/

— Cory Doctorow #BLM (@doctorow) February 23, 2021
Realignment and Legitimacy
"Asian America and the Politics of Guilt" [Current Affairs]. "Historian Andrew Liu, commenting on some recent open letters that also rebuke Asian Americans along similar lines, wrote, '[I]f we set aside the particular content of these [open] letters, ranging from the Chinese to Filipino/a experience to South Asian experience, they broadly share a general formal shape, that of millennial and younger diaspora telling their elders how to act like good white U.S. liberals…One consequence is that this does not open up a broader discussion about racism from multiple perspectives but instead encourages the assimilation of Asian diaspora (and Latino/a and Muslim, etc.) views into the norms and values of white liberals, namely, guilt and privilege talk.' That is to say, while claiming that Asian Americans are too cozy in their white-adjacent status, these letters are demanding that Asian Americans become even more white-adjacent, by absorbing a liberal politics of guilt entirely." • [hums] "And that's why I'm turning you in."
Stats Watch
At reader request, I added some business stats back in. Please give Econintersect click-throughs; they're a good, old-school blog that covers more than stats.
There are no official stats of interest today.
* * *
Tech: "Huawei's Mate X2 foldable adopts Samsung's dual-screen design" [The Verge]. "Huawei has announced the Mate X2, its first all-new foldable device since 2019's Mate X…. This being a Huawei device, the Mate X2 will launch without support for Google's apps or services, which is likely to severely limit its appeal outside of China." • I'm not so sure about that. Which tech moloch would you rather give your personal data to? The one that can monetize it, or the one that can't?
Manufacturing: "U.S. manufacturers grapple with steel shortages, soaring prices" [Reuters]. "Both companies and more are getting hit by a fresh round of disruption in the U.S. steel industry. Steel is in short supply in the United States and prices are surging. Unfilled orders for steel in the last quarter were at the highest level in five years, while inventories were near a 3-1/2-year low, according to data from the Census Bureau. The benchmark price for hot-rolled steel hit $1,176/ton this month, its highest level in at least 13 years. Soaring prices are driving up costs and squeezing profits at steel-consuming manufacturers, provoking a new round of calls to end former President Donald Trump's steel tariffs. 'Our members have been reporting that they have never seen such chaos in the steel market,' said Paul Nathanson, executive director at Coalition of American Metal Manufacturers and Users."
* * *
Today's Fear & Greed Index: 53 Neutral (previous close: 58 Greed) [CNN]. One week ago: 71 (Greed). (0 is Extreme Fear; 100 is Extreme Greed). Last updated Feb 23 at 12:13pm.
CNN]. One week ago: 69 (Greed). (0 is Extreme Fear; 100 is Extreme Greed). Last updated Feb 19 at 11:46am. New intern? —>
The Biosphere
I underestimated/misrecollected the effects of the Montréal ice storm because I experienced it in downtown Montréal, not the surrounding country:
power lines are crushed with the weight of four days of accumulated freezing rain in boucherville near montreal, canada, january 9, 1998 pic.twitter.com/ia3KmbwmUC

— ascended ✨ osintbot (@__fembot) February 22, 2021
These are the power lines to Montreal from Hydro Quebec, which run (IRRC) for hundreds of miles. I'm putting this image up partly to rectify my error, but also because of a conversation I had with a cab driver in Montreal: I mentioned the downed wires, and he said "So much for separatism," and explained that clearly the Canadian Air Force could cut a secessionist Quebec off from electric power whenever it wanted. I wonder if a similar logic applies to Texas?
Breaking the ice for the Northwest Passage:
Reminder that oil companies have been preparing for this moment, redesigning tankers, drilling equipment, and offshore platforms for a melting Arctic since the 1970s. A quick thread of their patents: https://t.co/qMX2Vls7BI

— Amy Westervelt (@amywestervelt) February 21, 2021
"Scientists Accidentally Discover Life 900m under Antarctic Ice" [EuroNews]. "Researchers from the British Antarctic Survey (BAS) found animals – including sea sponges and several potentially undiscovered species – living in complete darkness and temperatures of -2.2 °C. Very few creatures have been found living in such extreme conditions and the discovery goes against all previous theories about what kind of life could survive there…. Very few creatures have been found living in such extreme conditions and the discovery goes against all previous theories about what kind of life could survive there."
Health Care
"Former OSHA head: We're getting it wrong on COVID workplace safety" [David Michaels, NJ.com]. "Q. So the federal Centers for Disease Control has set no standard for ventilation? Not even for schools? A. That's right. There are private groups that put out voluntary standards, but there are no actual standards for ventilation right now…. Q. You think the government should be setting air standards for workplaces and requiring N95s or other respirators? A. Yes. What we're asking the CDC to do is recognize this means of transmission is an important one, and modify its guidance to reflect this. That will be important because OSHA is likely to be issuing an emergency temporary standard for workplaces within the month. It will point to CDC guidelines and say, follow this. And if the guidelines are out of date, they will be less protective." • A definitely good thing from the Biden administration, I must admit. Walensky had better get her act together (or OSHA will get it together for her). Commentary:
This bothers me so much—

📍There are still no official CDC guidelines for ventilation for schools—no rules on adequate air exchanges—despite so much science on >=5 ACH/hour.

📍And 6 feet is not safe for airborne virus, says ex-OSHA chief. #COVID19 🧵 https://t.co/0p0h9DiQHM pic.twitter.com/JEwMZGv5oC

— Eric Feigl-Ding (@DrEricDing) February 23, 2021
Generally, Feigl-Ding is a little rich for my blood, but he is calm and on point in this thread, which is worth reading in full.
If there's any justice in the world, short Plexiglass. Thread:
[Thread] how ~not~ to do pandemic precautions for airborne virus #COVID19
hospital in Netherlands (pics @ContainmentNu ) 1/ pic.twitter.com/e6nIOlzZhq

— Orla Hegarty (@Orla_Hegarty) February 20, 2021
On getting aerosols wrong (a):
Tragedy is that it was worse than forget. Spring, Summer & even Fall 2020 was full of people with a lot of credentials, reach and power pushing back or actively blocking the idea aerosol transmission as a key driver! Honestly wouldn't have believed it if I didn't live through it. https://t.co/GywD0XVM4a

— zeynep tufekci (@zeynep) February 23, 2021
(I linked to the Zhang piece yesterday.) On getting aerosols wrong (b):
Honestly, before, I thought Kuhnian "paradigm shift" theories were too simplistic; that groupthink, while of course real—and we teach it as a key sociological concept—was more marginal/limited; and Michels/Weber were maybe a bit outdated in their strictness of org theory? lol me

— zeynep tufekci (@zeynep) February 23, 2021
On Kuhn's paradigm shifts, see NC 2020 and 2008.
CO2 testing:
Public bathroom: not well ventilated@co2detective @CO2Guerrillas pic.twitter.com/FEjYV0s38Q

— Kate Cole (@kate_cole_) February 20, 2021
High CO2 is a good proxy for poor ventilation. This little instrument looks like it could be useful.
* * *
"A Reader's Guide to Safety & Adverse Event Data From Vaccine Trials" [Hilda Bastian, PLOS]. Lots of good tips. Here's one: "Solicited adverse events are a list of events/symptoms that participants are specifically asked to record. If that's not done in a consistent, structured way, the rate of adverse events is likely to be under-estimated. The less thoroughly researchers look, the fewer they'll find – and the rate of adverse events they report could be artificially low. A vaccine trial should have a structured method for soliciting adverse events for the week after vaccination, either for everyone, or for a large enough representative subset of people. That's because vaccines stimulate the immune system, and that stimulation can cause a well-known set of adverse reactions (called reactogenicity). Normal immune reactions are transient, which means they go away on their own, usually within a day or two. People ideally keep a diary for the first week, filling in details according to clear instructions about what to look for and record."
A good vaccination experience. Thread:
This vaccination process has been bizarrely efficient. I'm not used to experiencing this level of competence 😂

— T. Greg Doucette (@greg_doucette) February 20, 2021
"Polymerase Chain Reaction Is More Sensitive than Viral Culture and Antigen Testing for the Detection of Respiratory Viruses in Adults with Hematological Cancer and Pneumonia" [Clinical Infectious Diseases]. From the Abstract: "We conclude that PCR is more sensitive than viral culture or antigen or serologic testing for detection of respiratory viruses in patients with hematological malignancies, and that it offers the possibility for early, more rapid diagnosis."
"School officials order windows screwed shut after teachers open them to increase ventilation" [CBC (Steve)]. "Teachers at Godson Elementary School had assumed HVAC ventilation — an important system for maintaining airflow that reduces the risk of coronavirus transmission — was installed throughout the school, but were shocked to learn in December that this wasn't the case in an older wing of the building. After teachers began opening windows wide to increase airflow in the affected classrooms — despite cold temperatures outside — the school district responded by sending contractors to fix the issue. The district says those contractors found safety issues with the windows and partially sealed them." • By screwing them shut (!). To be fair: "Brooks was told by school officials the gaping windows also strained the boiler, which heats the school." • More crapified infrastructure.
"For those with body dysmorphic disorder, masks do more than protect. They help them function" [CNN]. "Daily commute debilitated the 23-year-old — because body dysmorphic disorder (BDD) defined so many parts of her daily life. But one afternoon in a pandemic-rattled 2020, Darr compulsively checked the bus mirror for her flaws and saw a mask instead. 'I couldn't see any of the features I fixate on,' she told CNN. 'The mask is covering my nose and my jaw, and I was like, 'Wow. My hair is really nice today.'"
Groves of Academe
"Dear Reviewer 2: Go F' Yourself" [Social Science Quarterly]. "Results: There is no evidence that Reviewer #2 is either more negative about the manuscript or out of line with the other reviewers. There is, however, evidence that Reviewer #3 is more likely to be more than one category below the other reviewers. Conclusions: Reviewer #2 is not the problem. Reviewer #3 is. In fact, he is such a bad actor that he even gets the unwitting Reviewer #2 blamed for his bad behavior." • Has anybody checked in on the social scientists recently?
Black Injustice Tipping Point
"Remembering W.E.B. Du Bois: a giant in the struggle for Black freedom in the US" [OpenDemocracy]. "His magnum opus, 'Black Reconstruction in America', first published in 1935, reveals just how close the US came to finally building a genuine multi-racial democracy in the wake of the Civil War. The decade of Reconstruction, from 1867 to 1877, marked the establishment of a thriving Black civil society that included churches, primary and secondary schools, and the rise of a Black political class devoted to implementing universal social programs. Du Bois's idea of 'abolition democracy', coined in the pages of 'Black Reconstruction in America', outlines the central demands of this era for Black 'physical freedom, civil rights, economic opportunity and education and the right to vote, [as a] a matter of sheer human justice and right'. However, this vision for full equity was ultimately defeated by a targeted campaign of physical violence, economic exploitation, and political neutering against Black Americans." • By (in my view) the world's first case of fascim, in fact. Sadly, and tellingly for a publication that styles itself "open" "democracy," the article erases Du Bois's socialism (as are, I would guess, other liberal sentimentalized retrospectives).
Guillotine Watch
"Vaccine access codes for hard-hit Black, Latino communities improperly used in other L.A. areas" [Los Angeles Times]. "The program to address inequities in vaccine distribution relies on special access codes that enable people to make appointments on the My Turn vaccine scheduling website. The codes are provided to community organizations to distribute to people in largely Black and Latino communities. But those codes have also been circulating, in group texts and messages, among the wealthier, work-from-home set in Los Angeles, The Times has learned. Many of those people are not yet eligible for the vaccine under state rules. Some people able to make appointments have been driving to Cal State Los Angeles to get the shots."
Class Warfare
"Amazon Drivers Are Worried About New 'Customer-Obsessed' Disciplinary Program" [Vice]. "While Amazon's contracted delivery drivers have always faced intense pressure to deliver up to 400 packages on 10-hour shifts, they worry the new disciplinary system, which coincides with this month's announcement that Amazon is rolling out AI-powered cameras in delivery vans to monitor drivers, will add pressure to already stressful jobs and put drivers at increased risk of termination at a job that many drivers say is fundamentally punitive." • Oh, great, telescreens. Good job, Jeff.
News of the Wired
"Episode 184: The Eat Pray Love Coalition" (podcast) [The Trillbillies]. Includes a serious — i..e., not performative — discussion of the psychological effects of the pandemic one year on (albeit discursive, Trillbilly-style).
"Dad-to-be killed when gender reveal device explodes: Police" [ABC]. • This keeps happening. When will the madness end?
* * *
Readers, feel free to contact me at lambert [UNDERSCORE] strether [DOT] corrente [AT] yahoo [DOT] com, with (a) links, and even better (b) sources I should curate regularly, (c) how to send me a check if you are allergic to PayPal, and (d) to find out how to send me images of plants. Vegetables are fine! Fungi and coral are deemed to be honorary plants! If you want your handle to appear as a credit, please place it at the start of your mail in parentheses: (thus). Otherwise, I will anonymize by using your initials. See the previous Water Cooler (with plant) here. Today's plant:
* * *
Readers: Water Cooler is a standalone entity not covered by the recently concluded and — thank you! — successful annual NC fundraiser. So if you see a link you especially like, or an item you wouldn't see anywhere else, please do not hesitate to express your appreciation in tangible form. Remember, a tip jar is for tipping! Regular positive feedback both makes me feel good and lets me know I'm on the right track with coverage. When I get no donations for five or ten days I get worried. More tangibly, a constant trickle of donations helps me with expenses, and I factor in that trickle when setting fundraising goals:
Here is the screen that will appear, which I have helpfully annotated.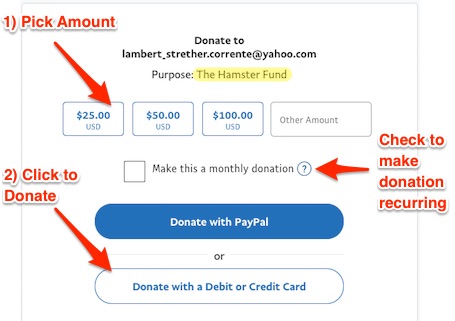 If you hate PayPal, you can email me at lambert [UNDERSCORE] strether [DOT] corrente [AT] yahoo [DOT] com, and I will give you directions on how to send a check. Thank you!