By Lambert Strether of Corrente.
Bird Song of the Day
At reader request, Birds of Australia. Duet with an insect.
* * *
#COVID19
At reader request, I've added this daily chart from 91-DIVOC. The data is the Johns Hopkins CSSE data. Here is the site.
I feel I'm engaging in a macabre form of tape-watching.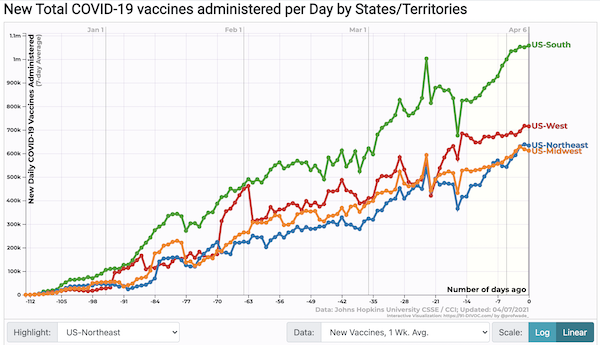 That's the stuff to give the troops. • Early in February, I said a simple way to compare Biden's performance to Trump's on vaccination would be to compare the curves. If Biden accelerated vaccine administration, the rate of vaccination post-Inaugural would kink upward, as the policies of a more effective administration took hold. They have not. The fragmented, Federalized, and profit-driven lumbering monstrosity that we laughingly call our "health care" "system" has not responded to "energy in the executive," but has continued on its inertial path, albeit in an upward direction.
Case count by United States regions: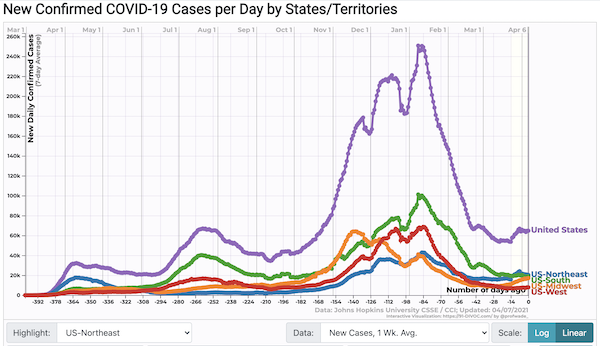 Long may the downward trend continue. It was caused by a drop in New York (see the chart of Big Sttates below). The Midwest is slowly rising, so see immediately below for a breakdown my state. All I can say is that if you have a system that has worked for you, keep at it. And avoid closed, crowded, close-contact settings, evem so-called outdoor dining. Don't share air!
The Midwest in detail: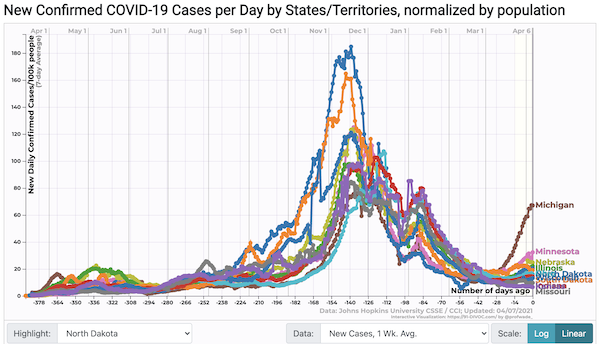 Michigan leads.
CT: "Experts: Increased restaurant capacity partly to blame for COVID surge in CT" [CTPost]. "Some health experts are concerned that loosening COVID restrictions, specifically restaurant capacity, has contributed to a new surge of cases in Connecticut. 'Dine-in at restaurants is a risky activity because, by necessity, people can't wear masks while eating, and most restaurants will not have the level of ventilation to make that indoors environment safe from airborne viral transmission,' said Pedro Mendes, a researcher and professor in computational biology at UConn…. [T]he 5 percent daily COVID test positivity rate the state announced Tuesday follows a recent trend showing the continued spread of the coronavirus in the state."
Big states (New York, Florida, Texas, California):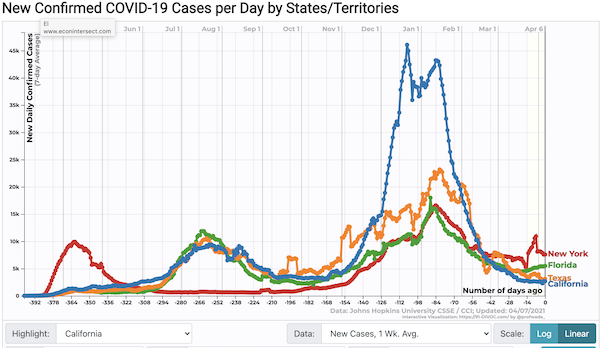 The big drop in New York, but flattening. Florida on the upswing.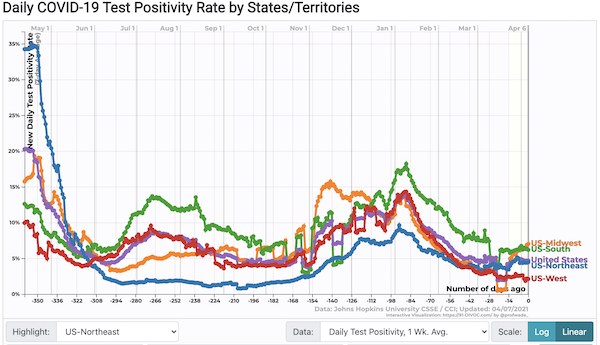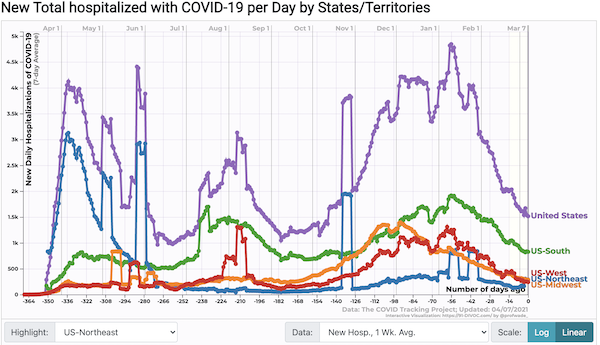 Case fatality rate (plus deaths):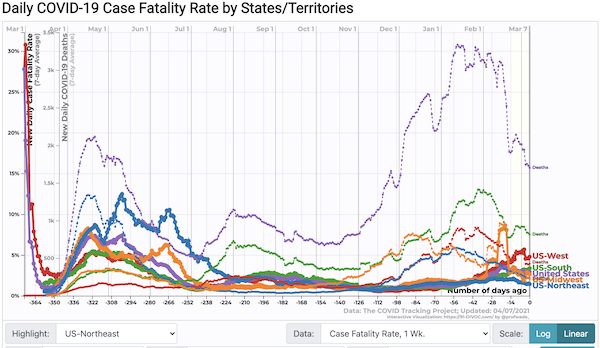 Good to see those deaths dropping. The fatality rate in the West is dropping now, for some reason as unknown as why it rose.
* * *
Politics
"But what is government itself, but the greatest of all reflections on human nature?" –James Madison, Federalist 51
"They had one weapon left and both knew it: treachery." –Frank Herbert, Dune
"They had learned nothing, and forgotten nothing." –Charles Maurice de Talleyrand-Périgord
Capitol Seizure
"'I Fed Him To The People': Trump Fan Indicted For Dragging Cop Into Capitol Mob By The Neck" [HuffPo]. • Well, that's the sort of thing that happens in a riot.
Biden Administration
"'A moment of peril': Biden's coronavirus response collides with case spikes" [WaPo]. "For the first two months, all the coronavirus numbers broke in the Biden administration's favor…, But the Biden White House is seeing new infections climb on its own watch — a potential crisis that could erase many of the hard-won gains of the president's first 75 days, should the numbers keep rising. After railing for a year about the last administration's response and vowing a more muscular strategy, Biden is encountering the limits of his own authority. The president can help secure and distribute supplies and medicines, issue guidance and urge caution — but like Donald Trump before him, he has few tools when governors decide to lift coronavirus protections at the wrong moment, manufacturers botch vaccine production, or Americans refuse to wear masks or get vaccinated." • Who knew? More: "After three coronavirus surges under Trump, most experts say a "fourth wave" is unlikely given the accelerating pace of vaccinations and the number of Americans who have acquired natural immunity after being infected by the virus. But the trends have alarmed some public health experts, who are calling on Biden to adopt strategies to speed up shots or take a harder line with states relaxing restrictions. On Tuesday, the president announced he was moving up the deadline for all adults to be eligible for vaccines to April 19, although that doesn't guarantee they will be able to be inoculated right away."
Republican Funhouse
"The congressman and his wingman" [Politico]. "[Rep. Matt Gaetz, the Florida Republican], a fierce Donald Trump ally who denies having sexual relations with a 17-year-old and prostitutes…." • Unlike Cuomo (or for that matter Biden (and Trump (and Clinton))) no accusers have come forward. What we do have is FBI leaks, which if you're a good liberal who believes whatever the FBI says means everything's jake with the angels. (To be clear, if Gaetz did have relations with a 17-year-old, that is a bad thing, but there no evidence of that has been shown to the public.)
Stats Watch
There are no official statistics of interest today.
* * *
Marketing: "Digital ad spend grew 12% in 2020 despite hit from pandemic" [CNBC]. "Despite an initial falloff due to the Covid pandemic, digital advertising spending grew 12.2% year over year in 2020, according to a new report commissioned by the Interactive Advertising Bureau and conducted by PwC. But the report also showed the largest players in the ecosystem further entrenched their hold on the U.S. digital ad market in 2020, commanding more share year over year."
Retail (1): Kill it with fire:
That's a big FU to minimum wage

— Blade in the MCU (@DreadedLion_) April 6, 2021
Retail (2): Not that:
I avoid Komodo dragons 🐊 like I avoid people without masks at convenience stores.

Happy Wednesday everyone. #MaskUp

— Eric Feigl-Ding (@DrEricDing) April 7, 2021
Real Estate: "Golf Courses Reborn as Warehouse Centers in E-Commerce Rush" [Bloomberg]. "Since the mid-2000s, golf has been suffering from fewer players and more course closures. The pandemic has giving the sport a boost because it offers both outdoor entertainment and social distancing. But as other leisure activities resume, many expect the sport's headwinds to pick up again. That's caught the attention of investors seeking to cash in on the warehouse boom. In New York, Tennessee, Pennsylvania and other states,warehouses are rising on parcels of land formerly occupied by golf courses. And among the tenants developers have drawn to these sites are Amazon and UPS. Online shopping during the pandemic has made warehouses one of the hottest corners of commercial real estate."
Shipping: "Winners and Losers of the Suez Blockade" [Hellenic Shipping News]. "Moiris also noted that 'even one week of blockage has had an impact in commodities trading, adding to the ton miles through the deviation of Cape of Good Hope for those vessels that decided to do so. Supply chain disruptions via delivery delays and increased congestion at discharging ports at a 2nd stage are expected to extend well beyond the next week. Finally, it is worth noting that such incident might put back into focus the importance of economies of scale of the larger vessel classes, particularly in an increased bunkers consumption context that might be triggered and the relevant asset value differences revisited', he concluded."
The Bezzle: "WeWork Or, Give People Money" [Yasmin Nair]. "WeWork was a venture built on a steamy, sliding, stinking pile of bullshit, but few were willing to call it out at the time, seduced by the promise of massive profits. It glorified the worst of neoliberal work conditions, and its gorgeous interiors and communal style workspaces helped mask the fact that nearly everyone in those airy, pretty spaces was chasing dreams bound to extinction before they started. Do you need a calm, nurturing environment in which to craft a hundred pitches to people who will never respond because those jobs have already gone to their cousins and classmates? Here you go, desks and free micro-roasted coffee, tea, and fruit water! Phone booths! Wi-Fi! Did we mention fruit water? Eventually, as these things must, WeWork melted into a puddle of financial incoherence and disaster but, of course, [Founder Adam] Neumann walked off with more than enough: $1.7 billion." • Solid invective from beginning to end, well worth a read.
Travel: "Carnival considers shifting home ports if U.S. sailing ban not lifted-CEO" [Reuters]. "Advance bookings for 2022 are stronger than they had been for 2019, the company said. 'Carnival's 2022 bookings are currently ahead of pre-pandemic levels — proving that demand for cruising isn't completely dead,' Hargreaves Lansdown equity analyst Laura Hoy wrote in a note. 'Now the group just has to stay afloat long enough to capture it.'" • Buff those Petri dishes!
The Fed; "U.S. jobs progress still far short of Fed's 'substantial' tripwire" [Reuters]. "The U.S. job market may have picked up steam in March, but the improvement was only a small step towards the Federal Reserve's threshold for considering reining in its massive support for the economy. That's the signal from a broad index of labor market indicators developed by Cornerstone Macro economist Roberto Perli and which includes an array of statistics U.S. central bank officials have placed at the center of their analysis of the economy. Perli's index, using data since 1990, improved following the addition of nearly a million jobs to U.S. payrolls in March. Nevertheless, the unemployment rate at 6% is more than 1.5 times above the low levels reached early last year. Other factors policymakers consider important in their analysis of the job market are even farther from their strongest readings. The March bump in jobs was 'nice to see,' Cleveland Fed President Loretta Mester said this week on CNBC. But 'we need more of those kind of job reports coming out to actually make more progress than we've seen thus far … I think we need to be very deliberately patient in our approach to monetary policy.'"
* * *
Today's Fear & Greed Index: 62 Greed (previous close: 64 Greed) [CNN]. One week ago: 51 (Neutral). (0 is Extreme Fear; 100 is Extreme Greed). One year ago, just after the end of the Before Times: 26 (Extreme Fear). Last updated Apr 7 at 12:23pm.
The Biosphere
Health Care
"Outdoor transmission accounts for 0.1% of State's Covid-19 cases" [Irish Times]. "Just one confirmed case of Covid-19 in every thousand is traced to outdoor transmission, new figures reveal. Of the 232,164 cases of Covid-19 recorded in the State up to March 24th this year, 262 were as a result of outdoor transmission, representing 0.1 per cent of the total. There were 42 outbreaks associated with outdoor gatherings, with one community outbreak accounting for seven cases. This involved an outdoor work activity which took place between two separate families, according to the Health Protection Surveillance Centre (HPSC) which monitors case numbers in the Republic." • So please stop shaming people for open air activities:
Twice, people cursed at me on the sidewalk in San Francisco for jogging without a mask on 😂 which seemed sad to me because running is good for public health

— Lelia (@lelia_glass) April 7, 2021
I confess to the same feelings about maskless joggers earlier in the pandemic, when I didn't understand about aerosols. The moral: Don't shame people over "the science," because they won't forget it, and the science can change!
"Contextualizing the risks of indirect COVID-19 transmission in multi-unit residential buildings" [National Collaborating Centre for Environmental Health]. The subheads: "Suspected causes of MURB [multi-unit residential buildings] outbreaks: Suspected causes of MURB outbreaks… Faulty ventilation systems…. Air leakage or unintentional air flows… Faulty plumbing stacks." • Commentary:
The three driving pressure forces are: Wind, Stack (chimney) effect, and Mechanical (both negative and positive). /3
Figure: Air Leakage Control for Multi-Unit Residential Buildings, CMHC 2017 https://t.co/wDWTyhPflk pic.twitter.com/QU3Kk1SV2B

— David Elfstrom (@DavidElfstrom) April 7, 2021
The article and the thread are extremely important and interesting (and I'm sure that HVACers, and plumbers, and building mavens generally will really enjoy it.
"UK coronavirus variant now most common strain in US, CDC head says" [The Hill]. "'Based on our most recent estimates from CDC surveillance, the B.1.1.7 variant is now the most common lineage circulating in the United States,' Walensky said at a White House press briefing. 'The virus still has hold on us, infecting people and putting them in harm's way and we need to remain vigilant," she added. 'We need to continue to accelerate our vaccination efforts and to get vaccinated when we can."" • Rachel Walensky, neo-liberal goon. I found the transcript, and of course Walensky is totally entrenched on suppressing and denying aerosol transmission, and butchering guidance generally:
[WALENSKY:] We have to recognize the high risk of infection in areas of high community transmission. I encourage communities to consider adjustments to meet their unique needs and circumstances. For example, in areas of substantial or high community transmission, CDC guidance specifically suggests refraining from youth sports that are not outside and cannot be conducted at least . Similarly, large events should also be deferred.
Six feet or three feet, Doctor? This after her own agency published (see yesterday's Water Cooler) a fine study showing aerosol transmission.
The images were taken via electron microscopy and combined in post:
Incredible images reveal how cells exposed to AstraZeneca's Covid-19 vaccine produce spike proteins https://t.co/dARVR07sak

— Daily Mail U.K. (@DailyMailUK) April 7, 2021
Impressive (and impressive PR by on-the-ropes AstraZenaca?)
We're #1! We're #1! (at least in body count):
NEW: just updated our excess deaths figures, including data into April

It's abundantly clear that Latin America is the hardest-hit region in the world, with the five highest excess death rates globally. The UK is 21st out of 48 countries, and the US 24thhttps://t.co/JxVd2cG7KI pic.twitter.com/DxNPGA2wNt

— John Burn-Murdoch (@jburnmurdoch) April 6, 2021
"Reactogenicity Following Receipt of mRNA-Based COVID-19 Vaccines" [JAMA]. Optimistic conclusion, but this is the method: "To facilitate rapid assessment of COVID-19 vaccines, in 2020, the Centers for Disease Control and Prevention (CDC) established v-safe, a new active surveillance system for collecting near–real-time data from COVID-19 vaccine recipients in the US. V-safe participants voluntarily self-enroll and receive periodic smartphone text messages to initiate web-based health surveys from the day of vaccination (day 0) through 12 months after the final dose of a COVID-19 vaccine.6 From day 0 through day 7 after each vaccine dose, participants are asked questions about solicited local and systemic reactions (eg, injection site pain, fatigue, headache). These solicited reactions do not include allergic reactions or anaphylaxis; however, v-safe does allow participants to enter free-text information about their postvaccination experience and asks about adverse health events (eg, received medical care). Medically attended events are followed up on through active telephone outreach; future analyses will address these adverse vaccine experiences. This report describes information on solicited local and systemic reactogenicity reported to v-safe on days 0 to 7 after each dose of vaccine from December 14, 2020, through February 28, 2021. Responses were limited to individuals who were vaccinated by February 21, 2021, to allow a 7-day reporting period after the day of vaccination." • I see the phrasing, "Medically attended events are followed up on through active telephone outreach," but I don't see how that works. If a subject stops answering the phone (say, because of a blood clot), then what exactly is the protocol for "active telephone outreach"? If every such case is not run down, then isn't that a form of adverse selection? Nevertheless, kudos to CDC for at least setting up an ambitious system.
"U.S. Bet Big on Covid Vaccine Manufacturer Even as Problems Mounted" [New York Times]. ", the federal government invested in an insurance policy against vaccine shortages during a pandemic. It paid Emergent BioSolutions, a Maryland biotech firm known for producing anthrax vaccines, to have a factory in Baltimore always at the ready. When the coronavirus pandemic arrived, the factory became the main U.S. location for manufacturing Covid-19 vaccines developed by Johnson & Johnson and AstraZeneca, churning out about 150 million doses as of last week. But because regulators have not yet certified the factory to allow the vaccines to be distributed to the public. Last week, Emergent said it would destroy up to 15 million doses' worth of the Johnson & Johnson vaccine after contamination with the AstraZeneca vaccine was discovered. Emergent and government health officials have long touted their partnership as a success, but an examination by The New York Times of manufacturing practices at the Baltimore facility found serious problems, including a corporate culture that often ignored or deflected missteps and a government sponsor, the Biomedical Advanced Research and Development Authority, that acted more as a partner than a policeman." • BARDA had it's problems when Trump arrived, but Trump certainly didn't fix it; if anything, the reverse.
"A Cartoon Guide to Criticism: Scientist Edition" [Absolutely Maybe]. "Science is a profession where critique is integral to the work itself. So you might think we'd all have both criticizing, and handling being on the receiving end of it, down to a fine art. But you'd be wrong – as a rather spectacular recent blowout of norms by a prominent scientist [Ioannidis] reminded us. Sociologist Robert Merton pointed out in the 1960s that scientists also rely on the acceptance and recognition of their peers, so it's no wonder things get heated…. I spent several years moderating a high-profile forum for scientific criticism, and my position about this is still broadly similar to the one I described in PLOS Medicine in 2014: I think we need a much stronger post-publication culture in science… Let's get straight to my (rather wordy) cartoon guide to science criticism – and you can always just skip through the headings and cartoons…. Remember: just because you took it personally, it doesn't mean it was personal. It gets harder if someone does make it personal (and that's out of line), but try not to let their bad behavior get to you." • With cartoons!
Under the Influence
"I Regret to Inform You I Have Once Again Written About The Baylor Influencer Twins" [Culture Study]. "Listen, there are people you encounter, however briefly, and end up living rent-free in your head for years. For me, that's Brooklyn and Bailey, whose Instagram has become a rich text right at the intersection of Christian youth culture and influencer capitalism." • Well worth a read.
"PIERS MORGAN: Khloé Kardashian's horror at the public finding out how she really looks lays bare how her family have built a cynical multi-billion dollar empire from the exploitation of fake views" [Piers Morgan, Daily Mail]. "The photo of Khloé Kardashian in a leopard print bikini that's gone viral this week is truly jaw-dropping. Because it's real. No filters, no airbrushing, little make-up, hair scraped back in a ponytail – just a picture of how Ms Kardashian actually looks. By comparison to all her heavily enhanced, carefully-staged glamour publicity photos, her waistline is significantly less defined, her curves less dramatic and her skin not so impossibly smooth. It's Khloé unvarnished, flaws and all….. An errant assistant – who I fear may now be resting in concrete under LA's 405 freeway – accidentally posted the image, taken by Khloé's grandmother during the family's weekend Easter get-together, online."
Our Famously Free Press
"Watch How 60 Minutes Deceptively Edited Ron DeSantis's Full Answer on Publix Vaccinations" [National Review (Montana Maven)]. "CBS's 60 Minutes alleged that Florida governor Ron DeSantis enlisted grocery chain Publix to help with coronavirus vaccine distribution because of a campaign contribution, but edited DeSantis's full response to the allegation…. However, 60 Minutes omitted a key section of DeSantis's response, in which he states that the first pharmacies to take charge of vaccine distribution were CVS and Walgreens, and were initially tasked with vaccinating residents of long-term care facilities." • I hate this.
.
News of the Wired
Trigger warning: Susan Saradon:
Me too pic.twitter.com/7PPgcny0KH

— Susan Sarandon (@SusanSarandon) April 7, 2021
* * *
Readers, feel free to contact me at lambert [UNDERSCORE] strether [DOT] corrente [AT] yahoo [DOT] com, with (a) links, and even better (b) sources I should curate regularly, (c) how to send me a check if you are allergic to PayPal, and (d) to find out how to send me images of plants. Vegetables are fine! Fungi and coral are deemed to be honorary plants! If you want your handle to appear as a credit, please place it at the start of your mail in parentheses: (thus). Otherwise, I will anonymize by using your initials. See the previous Water Cooler (with plant) here. Today's plant (AP):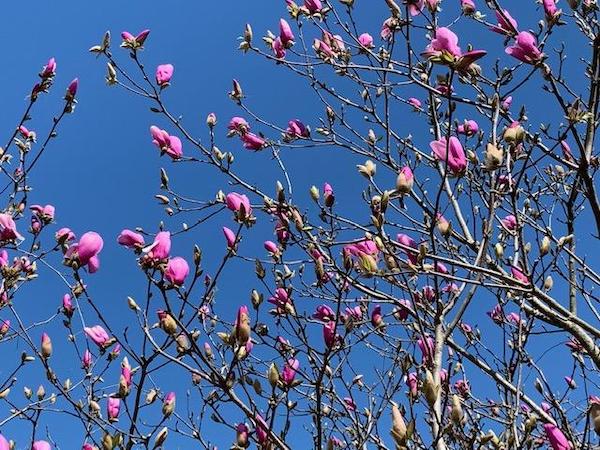 AP writes: "Magnolias bursting at Cincinnati's Theodore Berry Friendship Park."
* * *
Readers: Water Cooler is a standalone entity not covered by the recently concluded and — thank you! — successful annual NC fundraiser. So if you see a link you especially like, or an item you wouldn't see anywhere else, please do not hesitate to express your appreciation in tangible form. Remember, a tip jar is for tipping! Regular positive feedback both makes me feel good and lets me know I'm on the right track with coverage. When I get no donations for five or ten days I get worried. More tangibly, a constant trickle of donations helps me with expenses, and I factor in that trickle when setting fundraising goals:
Here is the screen that will appear, which I have helpfully annotated.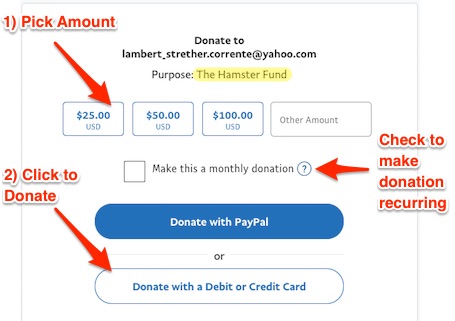 If you hate PayPal, you can email me at lambert [UNDERSCORE] strether [DOT] corrente [AT] yahoo [DOT] com, and I will give you directions on how to send a check. Thank you!